Custom Wood Doors from

Montana Rustics
Overhead garage doors don't have to be a boring expanse of space… embrace the garage as a canvas, a space that is an extension of the home, a place worthy of arriving at.
Choose between new woods, or capture the authentic with recycled and reclaimed woods with a history reaching back a century ago. Recreate historically accurate garage door designs that open upward with the touch of a button.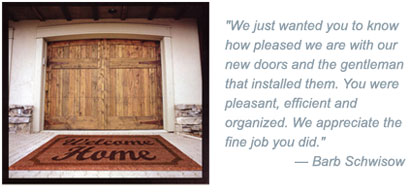 Our custom wood door designs are not limited to the collections presented to the right. If you are seeking a custom garage door design, allow this to be a springboard to take elements of design and piece them together in your own unique way.
Have you seen a door that appeals to you? Whether it's an old castle door or an interior door, we can redesign it into an upward acting garage door just for you.
Website: www.montanarustics.com or Call 406.586.9636
Montana Rustics Image Gallery
(use arrows - click to view)
Wood

you dream it ~ we build it
Wood Species
Custom Decorative Hardware